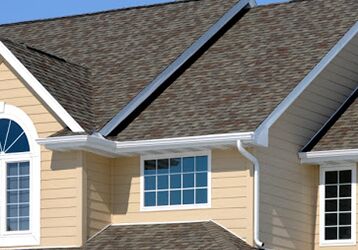 Taking care of your roof is one of the most important home maintenance jobs there is. If your roof is damaged, water may leak into the home and cause damp problems, and you will also find it a lot more difficult to heat your home. Even though you might save money in the short term by ignoring roof damage, it will cost you a lot more money in the long term.
If you do notice that your roof is damaged, you may be wondering whether you need to call in a roofing contractor to replace the entire thing or whether you can just make some simple repairs. There is no simple answer to this question because repairing the roof is adequate in some cases, while a full replacement is necessary in other situations. When making the decision between roof repair and roof replacement, there are a number of factors to consider, including the type of damage and the percentage of the roof that has been damaged.
If you are concerned about roof damage and you don't know whether you should repair or replace, this guide will help you to make your decision.
Replacing Shingles
In some cases, replacing shingles is enough to repair roof damage. Modern shingles, specifically asphalt ones, are designed to be incredibly durable and they will last for years. As long as the underlayment and decking are not damaged and it is only the shingles on the surface of the roof that need repairing, you can simply replace them.
Before you decide to start replacing shingles, you need to call out a roofing contractor and have them assess the damage. They will be able to tell you whether the underlayment and decking have been affected or not. If a few shingles have come loose due to high winds, for example, they are easily replaced. If you are not comfortable replacing shingles yourself, your roofing contractor can do it for you. However, if there are leaks that extend through the roof, this is a lot more complex to fix.
When you are replacing old shingles, it's important that you try to match them to the existing shingles as closely as possible. Shingles that have been exposed to the elements can sometimes change in appearance, so you may struggle to match the replacements. If the shingles that need to be replaced are in an area that can't really be seen, this isn't a problem. However, if the roof repairs need to be made in an obvious area, you may need to shop around to find tiles that match.
If you notice missing shingles on your roof, don't neglect the problem. Replacing the shingles right away may be an option, but if you leave the damage and let it get worse, roof repair may not be possible, and you will have to start looking into roof replacement instead.
Patching the Roof
In cases where the damage extends beyond a few missing shingles, many people wonder if they can patch their roof instead of replacing the entire thing. This is a possibility and some people even patch over their existing shingles, but in most cases, it's not the best option.
If there is severe damage to the underlayment and decking in the roof, patching over the top will not solve your problem. You should look out for curling shingles or small pebbles from the shingles in your gutter because these are both indications of a more serious problem. Just like you would when deciding whether to replace shingles or not, you need to call in a roofing contractor and get them to assess the extent of the damage before you decide whether to patch the roof or not.
There are also aesthetic issues when patching a roof because it's difficult to get the new section to match the old one, and it will stick out a lot. If you are concerned about how your roof looks, patching is difficult to get right.
In most cases, patching the roof is the wrong decision. If there is widespread damage and you are considering patching over it, it is likely that there is enough damage to warrant a full roof replacement.
Replacing Your Roof
A few missing shingles can be replaced but as soon as the damage starts to spread into the lower layers of the roof and cause leaks, you need to call out a roofing contractor and consider a roof replacement.
When replacing your roof, it's important that you put some consideration into the type of shingle that you use. Style is important, but you also need to take durability and cost into account. 3 tab asphalt shingles are the most cost effective shingle, but they are less durable than other options, like fiberglass asphalt, for example.
If you are looking for something that is more durable than asphalt and is also more stylish, architectural shingles are the perfect choice. They are durable and have an extra laminate layer which gives them a more sculpted look. Architectural shingles come in a wide range of colors and designs and are even available with a wood effect. Even though they are more expensive, they will last up to 3 times longer than 3-tab asphalt.
Luxury shingles are a great option if you want to strike a balance between style and durability. Although they look as though they are made from expensive materials, they are actually made from an asphalt blend that is designed to mimic these materials. You still get the same great aesthetic, but they are far more durable and more cost effective.
These are some of your different options for roof replacement but it's important that you speak with your roofing contractor and take their advice when choosing shingles for your roof.
In many cases, roof repair is only covering a problem instead of fixing it. If a few shingles are blown loose by some heavy winds and you replace them right away, that's fine and your roof will still offer the protection that you need. However, if there is widespread damage, roof repair or patching will not solve the underlying issues and it's best to call a roofing contractor and opt for a roof replacement instead.